About Myra Reichel's tapestries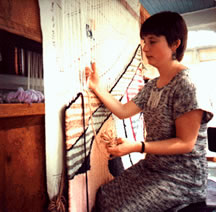 I have been weaving since 1970. I have exhibited my weavings and tapestries at museums, galleries, craft fairs, wholesale markets, and other venues. I have won numerous prizes at the PGHW annual juried exhibit.
I had two Pennsylvania Council on the Arts artist's residencies and I have taught classes at the PGHW, The Wallingford Art Center, and the Media Friends School. I have had many apprentices and students in my own studio and I encourage them to weave along with me on my own tapestries.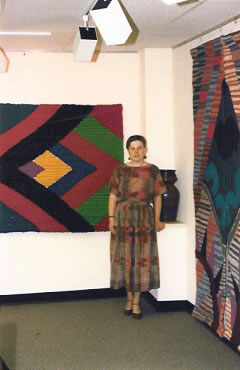 My 8' high by 12 ˝' wide "Law of Three Series" tapestry was juried into the "Art of the State" exhibit in Harrisburg and my "Trinity II" tapestry won the top tapestry award at The Philadelphia Guild of Hand Weavers Annual Juried Exhibit at the Widner Art Museum in Chester, PA in 2004.
Myra's Resume
See Myra Reichel's accomplishments in her tapestry weaving resume.